MeetingMatrix - Room Diagrams

Abacus 21 offers 'independent' or 'integrated' implementations of Room/Floor Diagrams via our partnership with MeetingMatrix™.
Seating Wizard
Control Panel
Setup Library
Picture-It
3D-VR
Demonstration
The Gold edition of MeetingMatrix™ was recently created to provide a more affordable diagramming solution that provides flexibility and ease of use while maintaining the ability to diagram complex space with extreme detail and accuracy.
MeetingMatrix™ Gold is designed for smaller venues as well as off site venues. With the Gold edition, you can draw a room diagram from scratch, allowing for the entry of room length and width, columns, protrusions and various types and sizes of doorways.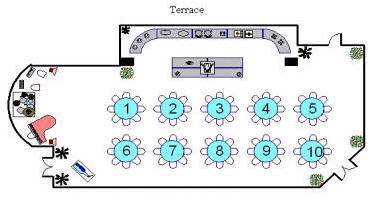 MeetingMatrix Gold™ is designed for Clubs and Event Facilities (or off-site Caterers) with limited event space.

The same Vector-Based technology used in MeetingMatrix™ Platinum and Platinum+ editions also allows Gold users to quickly translate their ideas into effective and adjustable diagrams reflecting a facility's professionalism.
Efficiency, coupled with its incredible ease of use, Gold helps avoid costly resets from miscommunication and improves the quality of presentations and proposals.
By enhancing an organization's image and utilizing time more wisely, MeetingMatrix Gold™ adds dollars to the top line as it cuts costs from the bottom.
Feature rich and easy to use
Great for the small conference service or banquet staff
Last minute changes achieved with minimal key strokes
Room setups savable in a number of popular image formats
Tent Wizard provides ready to use templates of industry standard tents both poled and framed
Users can automatically set a room using a variety of seating styles, audio-visual equipment, and our automatic table numbering features.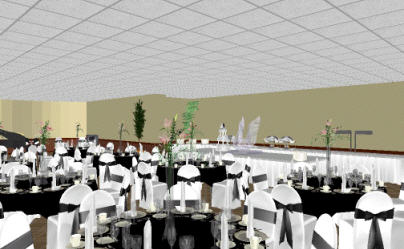 Gold can read and leverage MeetingMatrix™ Certified Room Diagrams and take advantage of industry standard expectations.
Email Setup Diagrams and 3D-VR views as multiple image formats BMP, JPG, TIFF, and PNG

Tent Wizard™ with industry standard tent sizes.

Auto Recover - auto save diagrams and setups.

Re-number Tables even after adding or deleting.

New Toolbars: Catering, Classroom Items, Banquet Items, Chairs, Audio-Visual, Furniture and Décor toolbars and more

New Symbols include:

Adjustable door swings and overhead doors

Floor box, data port, drinking fountain, wall cabinet, and escalator

Wedding cake, sauté station, serving tray, serving bowl, copper pot, and cutting board

Water glasses, water pitchers, pen & paper, and candy dishes

Conference chairs, armchairs, loveseats, sofas, and high chairs

Laptop computer, truss, spotlight and ashtrays symbols

Armchairs, loveseats, sofas, end tables, desks, file cabinets, lamps, armoires, and credenzas

Carpet, arches, drums, guitars and amplifiers

Gold now remembers positions of docked and floating toolbars as well as rapid firing/single shot object pasting.

Place projectors and AV cart automatically with screen and place the projector/cart on axis with the screen.
Seating Wizard features:

Automatically draw straight or chevron style setups for theaters, classrooms, or banquet seating.

Add audio-visual equipment setup items.

Create single, two-tier and drum riser stages, complete with steps, podiums, and plants.

Maintain full control over front, cross, back, and side aisles.

Position and rotate seating arrangements easily as they are grouped by default.

Experiment with different versions of your meeting setup.

Draw banquet style setups in straight or chevron styles choosing from a variety of table types.

Utilize multiple table sizes to make the most efficient use of the space.

Set a U-shape table arrangement with optional chair placements (inside, outside, and ends).





Click Image to Enlarge

Seating Wizard comes packaged with our Gold and Platinum+ editions and is offered as an upgrade to the Silver+ and Platinum editions.
Control Panel features:



The Control Panel module allows a MeetingMatrix™ user to assign default values to virtually every aspect of the software.

By customizing MeetingMatrix™, the user can create setup diagrams more efficiently and effectively.

The ability to define default setup object sizes eliminates the possibility that you've created a setup with an object that's not in your facility's inventory.

No need to worry about the size of a certain table or chair, you'll measure once, set it as a preference through Control Panel and it's right there ready to be selected from the menu.

As your inventory changes, you can quickly revise Control Panel to match it.

Specifically, you can:
Define the default rotate angle and display grids.

Set room and setup default directories for saving & retrieving.

Establish defaults for fill pattern, foreground, and background.

Set pen style, color and choose your default font including style, point size, and color.

Set the default alignment grid spacing.

Set the default wall thickness and the default chair length & width.

Open, add, rename, import, and export facilities.

Utilize inventory and preferences from other facilities.

Customize setup objects:chairs, tables, A/V, podiums, and risers to match your inventory.

Set the default size for all room and setup objects.

Save room and setup diagrams as Windows Enhanced Metafiles.

Password-protect room and setup objects, preferences, and diagrams.

Complete control over measurement defaults.

Set coordinates to real or paper, with fractional or decimal divisions.

Set ruler directions to vertical or horizontal.

Set default ruler and object units to English or Metric.

Set default direction of rows to vertical or horizontal.

Set default distances between chairs and rows of chairs.

Set default distances between tables and rows of tables.

Set default number and width of aisles and cross aisles.

Set default rows to straight or staggered.

You can change your default settings as often as necessary.




Click Image to Enlarge


With Control Panel, you're off to a quick and accurate start.
Setup Library features:



Do certain setups work well in your facility? Do you have a favorite buffet setup? If so, Setup Library is the perfect tool for you.

With Setup Library point and click to a preset table arrangement and "drop" it into your setup diagram.

We have 80 pre-drawn arrangements and space for you to add 40 of your own creation.

This feature not only saves you time, but your favorite staging, head table or buffet design is conveniently stored in the library just a click away.







Click Image to Enlarge

Setup Library comes packaged with our Platinum+ edition and is offered as an upgrade to Silver+, Gold and Platinum editions.

Picture-It features:



Picture It… MeetingMatrix™ enables you to add photographic images to a setup diagram.

Actually show a potential client what their buffets and table-tops will look like.

Easily add the photo and click the camera icon on the diagram to display the picture.

Special effects can be added to have the photos roll in from the top to the bottom, to scroll down, to close like a curtain, and more.

A photo library is included and you can browse to select your own photo files.

Picture It…MeetingMatrix is compatible with a variety of the most common file formats and offers more than 40 different special effect sequences.

Show your client how serious you are about their event.

You won't be saying, "picture…", but telling them, "let me show you". Then as you click the camera icon on the head table (within their very own setup), a color photograph of exactly how it will look appears…click on the buffet and a color photograph of the buffet will appear.

There's no limit to the number of photographs that can be added to a setup.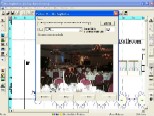 Click Image to Enlarge

Picture It… MeetingMatrix™ comes packaged with our Platinum+ edition and is offered as an upgrade to Platinum.

3D-VR Viewer features:



3D-VR will revolutionize your meeting space sales. Now you can assure your Client of their meeting's success by surrounding them with a virtual representation of their upcoming event.
3D-VR is seamlessly integrated into MeetingMatrix™. With the single click of a button, 3D-VR automatically transforms any event's 2-D MeetingMatrix diagram into a dynamic three-dimensional model. These models are accurately and realistically constructed, using your room's Space Rendering.
3D-VR also uses custom created models of your own furniture such as chairs, tables, podiums, etc. -- as well as the colors of your own table linens. The detail in every 3D-VR model is sure to make a positive impression with all of your Clients.
You can include predetermined viewpoints and create a virtual 'walk-through' for your 3D-VR models. After emailing a model to your Client, not only can they see and experience their event with the easy-to-use viewpoints and walk-through, but can also explore in greater depth by freely moving about the space! 3D-VR also provides the option of emailing simple .jpg images of the event's model to Clients as well.
3D-VR is clearly one of the leading technologies available in the Hospitality Industry today. With 3D-VR, the possibilities are only limited by your inventory and your imagination.
Please visit the Meeting Matrix™ 3D-VR and Space Rendering Multimedia Gallery for some examples.

Call Abacus 21 for further details.